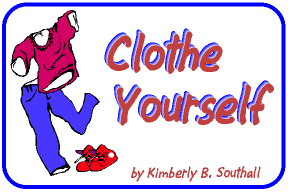 What are you wearing? Maybe you've got on a pair of pants, a shirt, underwear, socks, and shoes. But what else are you wearing? There are a couple of interesting passages of scripture which tell us what we ought to be "wearing" in addition to our physical clothing:

Therefore, as God's chosen people, holy and dearly loved, clothe yourselves with compassion, kindness, humility, gentleness and patience. –Colossians 3:12 (NIV)

11Put on the full armor of God so that you can take your stand against the devil's schemes. 12For our struggle is not against flesh and blood, but against the rulers, against the authorities, against the powers of this dark world and against the spiritual forces of evil in the heavenly realms. 13Therefore put on the full armor of God, so that when the day of evil comes, you may be able to stand your ground, and after you have done everything, to stand. 14Stand firm then, with the belt of truth buckled around your waist, with the breastplate of righteousness in place, 15and with your feet fitted with the readiness that comes from the gospel of peace. 16In addition to all this, take up the shield of faith, with which you can extinguish all the flaming arrows of the evil one. 17Take the helmet of salvation and the sword of the Spirit, which is the word of God. –Ephesians 6:11-17 (NIV)
The things mentioned in those scriptures aren't things you can literally put on like you do clothing. Instead, these are spiritual things that you "put on" or "clothe" yourself with. In other words, they are attitudes and actions you take at all times, because you are a follower of Jesus. Here is a listing of those things, again:
compassion
kindness
humility
gentleness
patience
truth
righteousness
gospel of peace
faith
salvation
the word of God
Think of those things. If you haven't already, begin clothing yourself in those things today. Have compassion for others. Show kindness and gentleness to others. Be humble (the opposite of proud). Be patient with others. Speak only the truth. Be righteous (do only what you know to be the right thing). As much as you possibly can, live peaceably with those around you. Exercise your faith in God (and share it with others). Always be thankful for the salvation you have through Jesus Christ. Read and study the word of God (the Bible) daily. Don't run around "naked" spiritually. Clothe yourself.

Copyright © 2002 Kimberly B. Southall. All rights reserved.